The Christmas Banquet was held on December 19th, a few days before the main event itself, with a good number of us gathering to enjoy the occasion.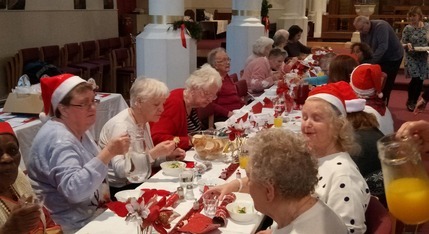 Fr. Peter talked about various aspects of the Christmas message before we watched a hilarious depiction of the Christmas Story! sung to the tune of Queen's Bohemian Rhapsody, but aptly named Bethlehemian Rhapsody!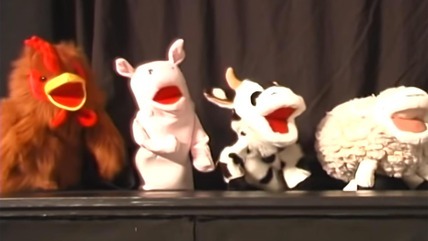 Fabulous entertainment was provided by the wonderful voice of Rebecca Burraway, who amazed us all with just how much vocal power she could generate from her petite frame. Becky sang various melodies beautifully and then we all joined in with some Christmas favourites.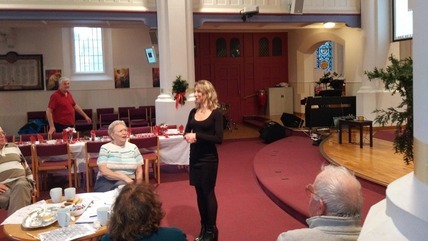 Lunch was served and included a delicious three course menu, starting with Prawn Cocktail, followed by Roast Lamb with vegetables, yorkshire puddings and a tasty gravy and finally a choice of deserts including trifle and Christmas Pudding, of course!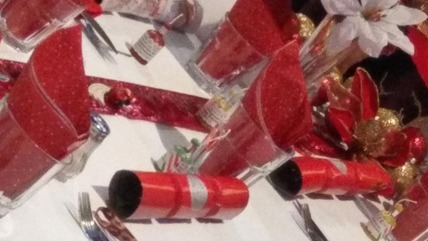 Huge thanks must go out to Sav, Terry and Grace for all their hard work in preparing our sumptuous feast! As well as to the other volunteers for their help in serving and clearing up afterwards. And finally it would be remiss of us not to mention Clive, for his smooth organisation, whilst always maintaining a friendly smile and Fr Peter for highlighting the meaning of Christmas.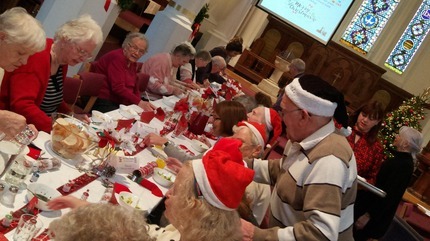 It wasn't only Becky that amazed us on the day, because Terry Lambert the magician came along and performed a variety of spellbinding tricks during lunch, making us laugh throughout with his jokes and foolery. Afterwards Terry performed a series of clever magic on stage leaving us with mouths agape in disbelief!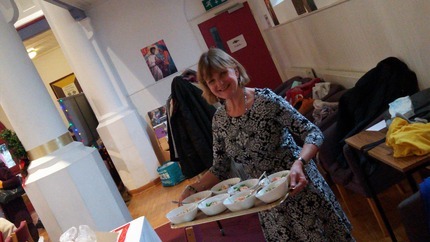 The event seemed to be over almost as soon as it had begun and the day had been a happy and enjoyable start to the season leaving us all in good spirits. Here are a few more pictures from the day! Happy Christmas 2019!
09:46, 11 Jan 2020 by Admin PC
Tags:

Archive
Use the calendar or list of months to view entries made on those dates.
| S | M | T | W | T | F | S |
| --- | --- | --- | --- | --- | --- | --- |
| | 1 | 2 | 3 | 4 | 5 | 6 |
| 7 | 8 | 9 | 10 | 11 | 12 | 13 |
| 14 | 15 | 16 | 17 | 18 | 19 | 20 |
| 21 | 22 | 23 | 24 | 25 | 26 | 27 |
| 28 | 29 | 30 | 31 | | | |